BioTrace+
is our third generation software platform for physiological monitoring, data analysis, signal processing and clinical biofeedback-neurofeedback. It is built from ground up, to be highly accessible for beginning users while offering a rich and deep set of functions for the more advanced user. It has been designed for optimal support of the NeXus-4, NeXus-10, NeXus-16 and NeXus-32 systems and offers true dual monitor functionality so you need only one computer to run separate clinician and client screens.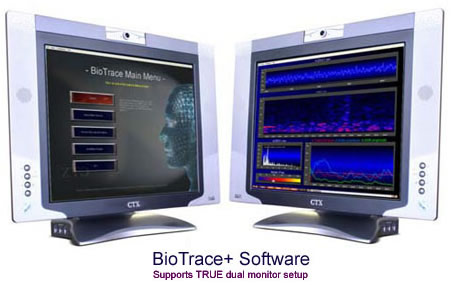 Navigating up to 12 screens is a breeze - as simple as pressing one function key. BioTrace+ is highly configurable allowing you to edit and change settings on the fly, without having to stop or restart a session. The graphical display is optimized with smooth and fast graphics for low latency feedback.
More User Friendly
BioTrace+ features the most intuitive interface on the market, delivering point-and-click simplicity that fully supports the work of both clinicians and researchers.
● BioTrace + comes preloaded with screens and protocols and doesn't require a degree in computer science to get started.
● Seamlessly change settings without interruption, for more efficient and effective sessions.
● One program allows for the management of all the software's functionality; no more switching from program to program.
● An integrated, fully functional protocol and screen-building editor allows users to build customizable protocols and screens with a few clicks of the mouse.
Note: for users of BioGraph® 2.X (16 bit) BioTrace+ for NeXus will offer an easy upgrade path because both softwares have been programmed by Mind Media.
More Multi-Media
BioTrace+ is built around a state-of-the-art DirectX accelerated graphics platform that is faster and more responsive than anything on the market.
● True dual monitor support for two independent screens connected to a single workstation, creating maximum visual impact.
● Support for a full suite of multi-media formats, including DVD; MPEG, WMV, AVI video; and MP3, WMA, and WAV and flash media.
● New instruments include Fast Spectrogram, 3D Mandelas, digital water effect instruments, and multi-linegraphs. True biofeedback-driven computer games get children's attention.
● Eighty virtual data channels with 64-bit floating precision.
● Smooth and pleasing graphics in up to 16 million colors.
Note: BioTrace+ allows you to import multi-media video files, sounds, MP3, texts, macromedia flash animations and other media for use in your own screens and applications.
More
Flexibility
BioTrace+ allows the clinician to easily manage input in virtually any format.
● Client and session database and session reporting functionality are part of an improved session review mode allows users to edit extended sessions with trend graphics.
● Function keys can be easily programmed to execute seamless, on-the-fly switching among up to 12 screens, allowing the user to instantly change feedback parameters and digital filter settings.
● All formats can be captured in real time for data recording and review.
● Features an extensive library of data processing, digital filtering, and statistical and mathematical functions as well as several feedback-controlled computer games designed just for younger clients.
More Scalability
Like the NeXus-10, BioTrace+ has been designed to be on the cutting edge...both today and tomorrow.
● Full compatibility with the latest Windows ® XP SP2 environment as well as with legacy 16 bit MultiTrace/BioGraph® 2.X sessions (versions up to december 2003)
● A platform that's built to grow with available technology will keep BioTrace+ on the cutting edge for years to come.
More Clinical Applications
BioTrace+ supports many physiological applications and protocols. For the researcher it offers flexible live data acquisition, data export (to Excel/MatLab/SPSS), quick statistics, and editable screens & protocols. For the clinician/therapist, a short summary of supported applications are listed below:
● Neurofeedback: Attention Training, Slow Cortical Potentials (SCP!)
● Migraine and Tension Headache protocols
● Respiration training
● HRV (heart rate variability) training, analysis & printed reports.
● Neuromusculair reeducation
● Stress management, relaxation training
● Pelvic Floor training (EMG)
● Neurophysiology: ERP (event related potentials) & QEEG (NeXus-32)
Note: you can also build your own protocols based on EEG, EMG, ECG, Respiration etc. through the integrated screen and protocol editor.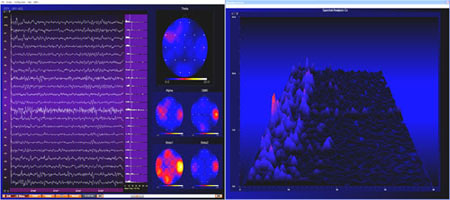 Research, Psychophysiology and Biofeedback
BioTrace+ for NeXus-10, 16 and 32 is used in the field of physiological research, psychophysiology, neurophysiology and clinical biofeedback/neurofeedback.
Note: You can read a short summary of recent publications in the PDF files on the right. In total there are over 5000 documents, publications or reviews listed on the PubMed website involving biofeedback or neurofeedback.